AI/ML & Vision Based Inspection Solutions
Typical challenges in Manual & Semi-Automated Quality Inspection:
With the high pace of growth in manufacturing, several supply chain issues arise, of which quality (and regulatory approval) of the products is the most critical. Many manufacturers – big & small – still use manual and semi-automated quality inspection processes, which acts as supply-chain bottleneck and huge quality threat
The challenges posed by manual and semi-automated quality inspection cannot be overstated given the regulatory, financial & public relations implications of poor quality, especially for products like food, beverage, drugs, medical devices, auto components, electronics, etc. While companies are looking to fully automate their inspection processes, most existing solutions are very expensive, can not adapt to the range of products in the market and lack the flexibility required for different product lines.
Thingularity works with leading technology partners in the field of AI/ML & Vision based inspection solutions to offer affordable, fully-automated, and high-throughput solutions for the following industries applications
Our automated Inspection solutions employ proprietary and industry-best approaches & components and provide the following benefits
High speed, 100% automated inspection at the rate of several components per minute
AI & ML based deep learning tech that learns and adapts to a wide range of products
Quality Insights & manufacturing stats and at one place
Eliminates Human Error and costs associated
Machine Vision technology with latest image processing algorithms to identify visual defects
Optics & Lighting to ensure accurate image processing
'Good' and 'Bad' or Other categories bifurcation
Real Time Control and visibility of operation
Bottling Inspection Solutions
Thingularity provides Bottling inspection solutions for the Pharmaceutical, Food & Beverage, & FMCG Industry:
Opaque Container Inspection System:
This solution inspects the fill-level and detects any foreign body in opaque containers. It utilizes Automated X-ray Inspection (AXI) to automatically inspect aspects which are otherwise hidden from view. Wherever large numbers of very similar items are produced according to a defined standard, our AXI based Opaque Bottle Inspection System proves to be invaluable tool to ensure quality and to improve yield in processing and manufacturing.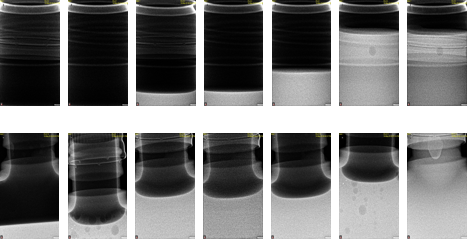 Empty Bottle Inspection System:
Imperfect empty bottles and defects in them lead to stoppages in the filling line. By removing these defective bottles, higher efficiency in filling line can be achieved. Our solution utilizes a combination of machine vision and AI/ML algorithms along with robotics to helps detect imperfections like deformed bottles, cracks, chip-offs, and flaws in the mouth area, base and side wall in an automated fashion
Opaque Container Inspection System:
Caps & Crowns Inspection
Ampoule Inspection System & Vial Inspection System

Dimension Check
Cosmetic Check
Fill Check
Counting

Bottle Orientation System
Caser – with 6 Axis / SCARA Robot
Caser – Cartesian Robot
Un-Caser – Cartesian Robot
Packaging Inspection Solutions
Label Inspection System: Container labels are key for a company's branding and product information. Improperly applied labels spoil the aesthetics of the package, company credibility and product image.
Labels also carries important variable data like manufacturing date, expiry date, batch number and other plant data to help tracking and tracing in the event of a customer complaint and for regulatory purposes. Improper labels can lead to consumer complaints, dissatisfaction and regulatory challenges.
Our solution utilizes a combination of machine vision and AI/ML algorithms along with robotics to help detect & eliminate products with skewed labels, label shift and improper variable data.
Other Solutions Developed:
Code Reading Solutions
Blister Inspection
Carton Inspection
Bulk 2D Decoder
label orientation & variable data check, barcode & QR code verification
Automotive & Industrial Component Inspection Solutions
We have worked with on range of Automotive and Industrial components including:
Bearings
Bolts
Connecting Rods
Drawn Components
Engines
Hypoid Gear
"O" Rings
Pistons
Punched Components
Split Bearings
Screws
Stampings
Timing Gears
Washers
Solution Applications Include:
Missing Parts Detection
Assembly Integrity: Timing gear matching
Valve Lock Check
Machining Defect Check (burs)
Contact Area Verification with Matching Gear
Gear Angle Measurements
How our solutions are different