Rapid IoT Enablement Platform
Thingularity's Rapid IoT Enablement Platform enables Product Companies to quickly and cost-effectively design and develop their Smart Products. Product companies can leverage Thingularity's quick-to-deploy, AI-powered platform to launch their smart product lines at a fraction of typical product engineering costs. 
Supported product categories include Lighting, Home Tech, HVAC-R, Appliances, Smart-Metering.
Multiple protocol support based on
product & user requirements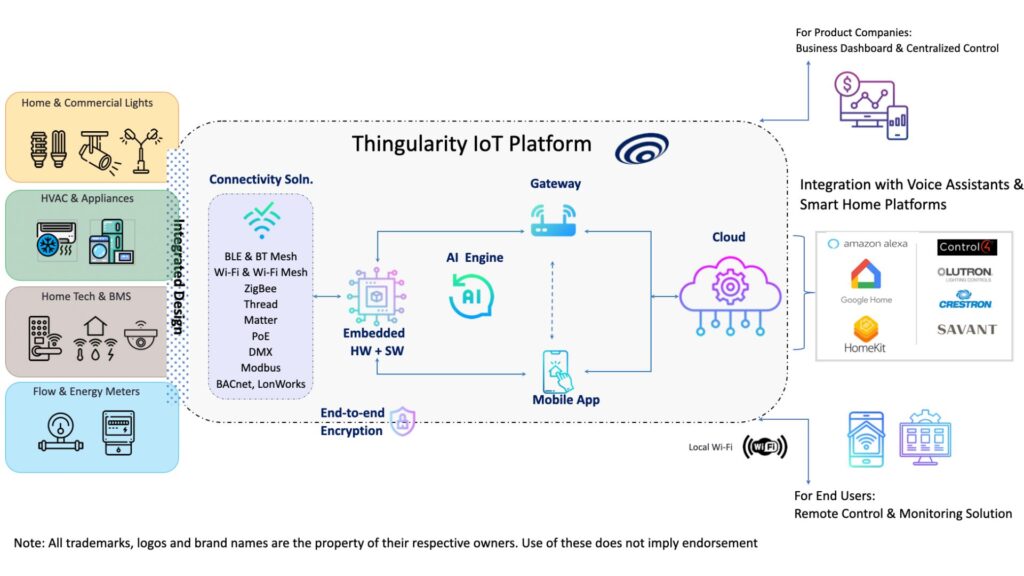 Embedded Hardware and Software

Intelligent Embedded Design for Control and Connectivity
Proven, Industry-Standard Semiconductor Platforms
Customizable to specific products & applications
Power Electronics Design for specific applications
Wireless/ Wired Connectivity enablement specific to product requirements
BLE, Mesh, Thread, ZigBee, WiFi, PLCC, PoE, DALI, DMX, Fieldbus connectivity
Gateway (In Home & Outdoor Variants)


Enables Multi-Protocol Communication
Facilitates Cloud Communication 
Customizable + Private Labelling 

For Control, Monitoring, & FOTA
Customizable + Private Labelling 
For Device Provisioning & Lifecycle Management 
User Management & Data Handling  
Customizable + Private Labelling  

For Predictive Analytics, Self-Learning
Fault Detection, Alarms and Warnings
Rapid Implementation
Low Upfront Engineering & Upgrade Costs
Private Labelling 
Cloud-based customer usage insights to drive product & market strategy
Enables Service Based Biz-models
Comply with City & Building Regulations
Warranty Management 
Remote Monitoring & Control 
Sensors & AI Based Automation*
Usage Dashboard and Insights
Energy Savings
Easy Integration with BMS/ Home Automation Platform
Alerts & Warnings 
Asset and Inventory Cost Saving
Pricing Model
(5 Components)
Thingularity In-Home Gateway
IoT edge computing gateway supporting multiple communication protocols
Lighting, Camera, Thermostat, & Shade Control
Versatile connectivity + edge computing capabilities – suitable for various indoor applications
Smart Touch Screen In-home Display
DMX / BLE Drivers to drive LED Lights
Mobile App for Control, Alerts, & OTA
Cloud – Always Connected System
Integration with Voice Assistants & Smart Home Platforms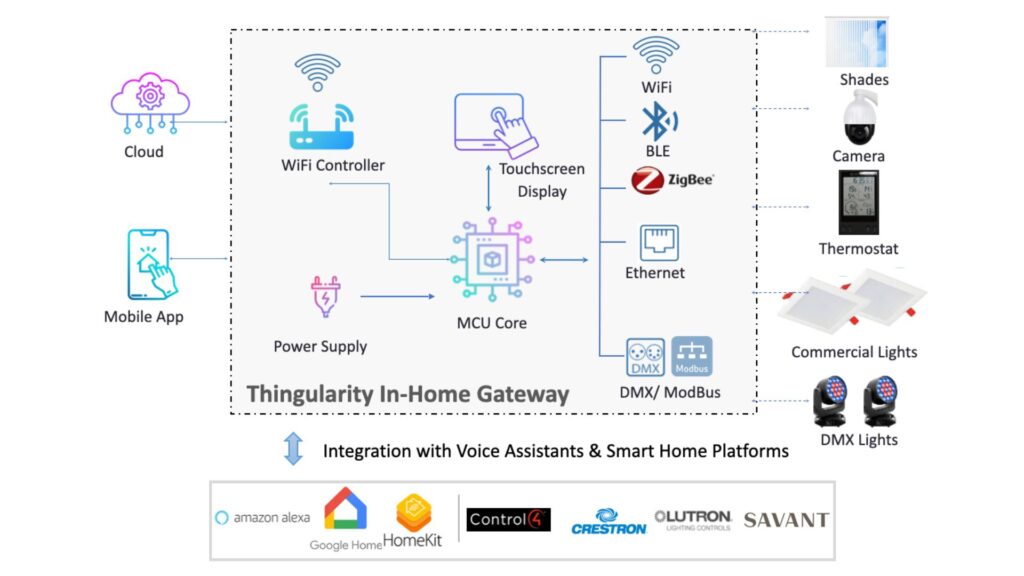 Thingularity Outdoor Gateway
IP67 grade IoT edge computing gateway supporting multiple communication protocols

HVAC Units, Outdoor Appliances, Perimeter Security, and Metering Control

Versatile connectivity + edge computing capabilities + IP67 Rating – suitable for various outdoor & harsh applications

Smart Touch Screen Display

Mobile App for Control, Alerts, & OTA

Cloud – Always Connected System

Integration with Building Management Systems