Smart Metering & Energy Management Solutions
Thingularity works with electric meter manufacturers to develop smart metering and AMI solutions. We specialize in design, installation and commissioning of smart metering products with capabilities in implementation of demand side management for AMI (advanced metering Infrastructure) and Grid Optimization. We support a variety of communication technology and energy measurement techniques helpful in lowering financial and operational costs for Power Distribution and Supply Companies.
Below is a sample of a Smart Electric Metering solution provided
Smart Meter
Class 1 Based Metering Engine
SMPS Based Power Supply Design
Integrated Connect / Disconnect Switch
Isolated RS232 Port & Optical Port
Plug-in-Play AMI Solution
Outage Management & TOU Reading

IoT Gateway
Powered by ARM Cortex A8 Core
PLCC to 4G/5G / Ethernet Gateway
PLCC Mesh Network Tropology
Battery Backup & Outage Management
Windows 10 IoT Operating System
Head-End System
MS Azure based Cloud Data Acquisition & Aggregation
Dashboarding & Data Visualization
Alerts & Insights
Technology and Design Highlights
Wireless connectivity through ZigBee Mesh, LPRF and 3G/4G/NB IoT
Ethernet and Wi-Fi based Intelligent Data Collection Unit ( DCU )
Options for Modbus, EtherCat and Power Line Carrier Communication (PLCC)
Compliance with DLMS/COSEM for Smart Metering
Microsoft Azure based Cloud Solution for Meter Data Acquisition System (MDAS)
Provide Firmware over the Air (FOTA) upgrades
Mechanical Design & Development and Pre-certification support for smart meters
Thingularity provides water metering solutions not only to measure water flow but also for remote reading and infrastructure maintenance. These measured parameters are pushed to the cloud server at pre-defined time intervals over LoRa network via Mobile Gateway. Utility companies can efficiently collect data and streamline operations to manage the maintenance costs.
Below is a sample of a Smart Electric Metering solution provided
Customers, including municipal corporations and suburban societies & communities can leverage these solutions to cut down on water wastage and quickly identify issues in their water distribution network:
Water Leakage and Unauthorized/ Unbilled water usage
Difference in system input volume (SIV) and the amount of actual water billed to consumers
Pinpointing the breakdown of NRW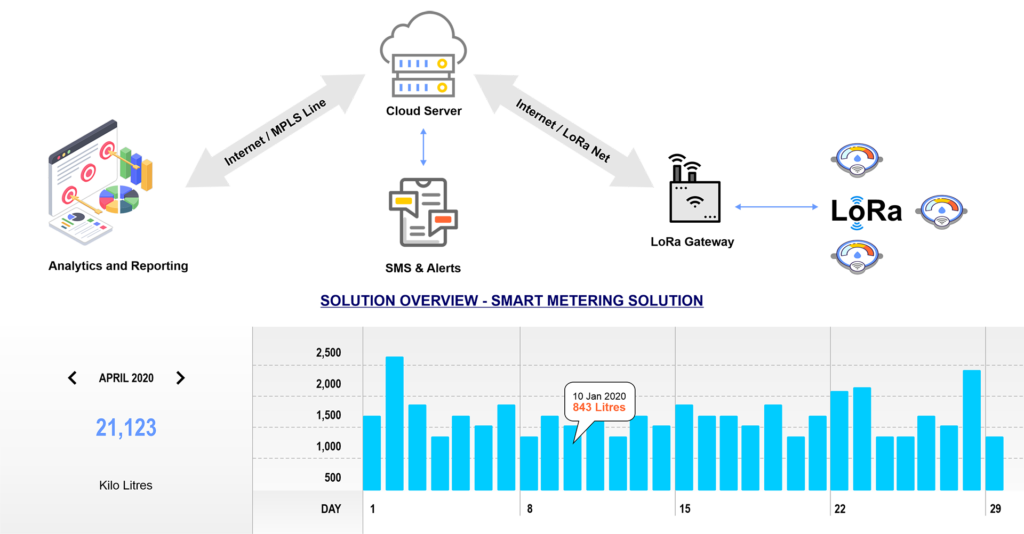 Technology and Design Highlights
Ultrasonic Flow Metering Technology – No moving parts
Cloud based data collection and billing system
Strong and rugged mechanical design with tamperproof alarm system
Compact form factor for all standard pipe network
Digital LCD Display with more than 5 Year battery life